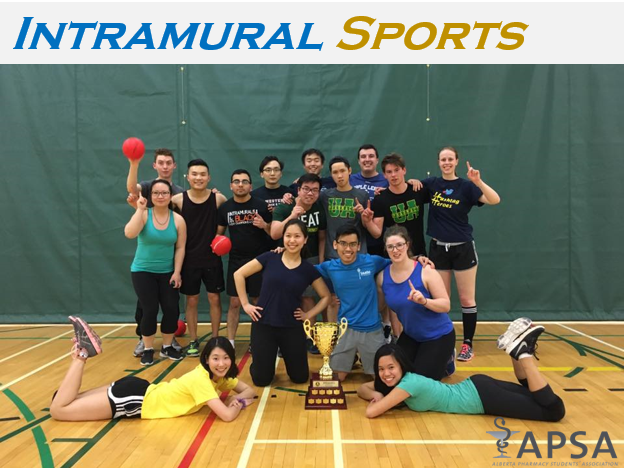 Intramurals are a great place to get to know fellow classmates from all four years of pharmacy. They harbour an exciting and competitive environment that will allow you to stay active outside the classroom. Everyone in pharmacy is welcome and previous experience in the sport is not required. APSA puts together a number of teams for men's, women's and co-ed sports including: ice hockey, ball hockey, dodgeball, volleyball, basketball, and soccer. Members of APSA have fees for intramurals
covered
and intramural t-shirts and jerseys can be purchased. As well, registration for any intramural sports that APSA typically does not form a team in can be made, providing the University offers it and there is demand to join.
Stay tuned for future updates on intramural sport registration and events!
Click here to visit the University of Alberta's Recreational Services website for more information about intramurals.
Please contact the sports representatives for more info:
Greg Poon – gpoon@ualberta.ca
Katina Woo – katina1@ualberta.ca
Hey everyone! At long last we are going to start signing people up for intramurals! If you are interested in signing up, please fill out the google form below. There will be two Slo Pitch teams registered this year, as last year there were quite a few players that were registered on the team. If there is another player that you would like to sign up with, please indicate so on the form. We will do our best to accommodate everyone, but please only enter one other person you would like to be paired up with if you are interested in Slo Pitch.
Here are the starting dates for each league:
Dodgeball – Sept 19
Slopitch – Sept 11
Ultimate frisbee – Sept 11
Vball corec – Sept 19
Vball women – Sept 21
Soccer Open – Sept 13
Once you have filled out the google form, we will add you to the team on IMLeagues and send you an invitation. IMLeagues is a separate website the university uses to organize teams and schedule the intramurals. If you have never used IMLeagues before, you will need to create an account. To join the team, you'll need to complete a short quiz (don't worry, it's open book).
As well, you'll notice at the bottom of the list there is a section that asks if there are any other sports or activities that you would like to be a part of that are not included in the regular intramurals (ie. rock climbing, badminton, etc). If there is enough interest, we can create groups that could meet up to do those activities.
Just a reminder that for every intramural game that you attend, you'll get one entry into a draw at the end of the year for a gift card! In order to be elligible, you must attend at least 2 games for each sport you sign up for.
For those who signed up for soccer on the google form, please also email Greg Poon or message him on Facebook. Thanks!
Thanks for your patience!
Google form: https://docs.google.com/forms/d/e/1FAIpQLSd-jgi53u5GlQq00gSat-PkUDUzv-jrbwzibvgHszNvxUBrjw/viewform
IMLeagues: http://www.imleagues.com/spa/portal/home