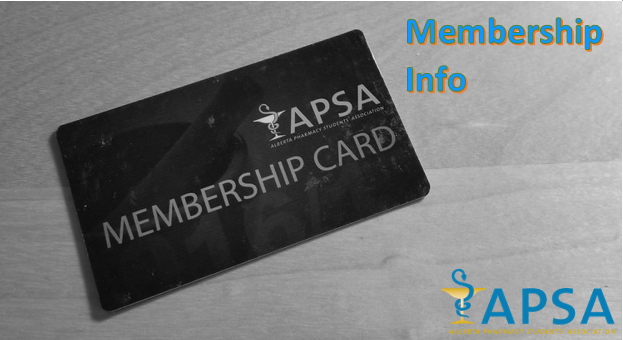 An active membership in the Alberta Pharmacy Students' Association is voluntary but highly encouraged for pharmacy students at the University of Alberta. A membership offers countless benefits and perks towards improving student quality of life, including:
Membership in CAPSI (Canadian Association of Pharmacy Students and Interns) and IPSF (International Pharmacy Students' Federation)
Ability to attend APSA and CAPSI events (eg, Professional Development Week)
Discounts on admission to other pharmacy events (eg, Blue and Gold Ball discount, Mr. Pharmacy event discount)
Membership card deals including discounts at various business places in Edmonton
Free intramural sports participation
and many other benefits listed on our Member Services and Events pages! In addition, an APSA membership is required in order to be elected or appointed to any council or officer position. Many members agree that the cost of an APSA membership pays itself off quickly, and each pharmacy class consistently has over 95% (or even 100%) membership in our association.
You might ask, what kind of discounts does the membership card offer? In the past, these offers have included things such as 10% off at Launch Pad, 10% off at Steeps Tea, 10% off at Menchies, 10% off at Tutti Frutti, in addition to no line and no cover, or free gaming at various pubs in the city. At the moment deals are still being worked out for this upcoming year, and more information about discounts will be announced both on the back of your APSA membership card, on Facebook, and on this website.
The one-time membership fee of $200 will cover your four years in the Bachelor of Science in Pharmacy program, and will carry over to the PharmD program as well at no additional cost. To purchase membership, please visit our online store by clicking this link., or alternatively, you may bring a cheque on Orientation Day, or during office hours in the school year.