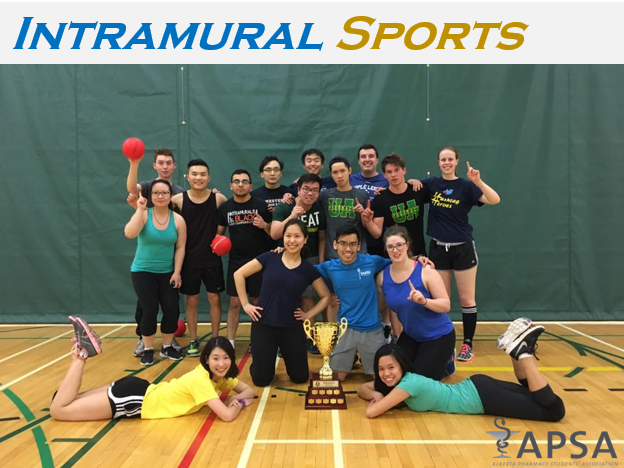 Intramurals are a great place to get to know fellow classmates from all four years of pharmacy. They harbour an exciting and competitive environment that will allow you to stay active outside the classroom. Everyone in pharmacy is welcome and previous experience in the sport is not required. APSA puts together a number of teams for men's, women's and co-ed sports including: ice hockey, ball hockey, dodgeball, volleyball, basketball, and soccer. Members of APSA have fees for intramurals
covered
and intramural t-shirts and jerseys can be purchased. As well, registration for any intramural sports that APSA typically does not form a team in can be made, providing the University offers it and there is demand to join.
Stay tuned for future updates on intramural sport registration and events!
Click here to visit the University of Alberta's Recreational Services website for more information about intramurals.
Please contact the sports representatives for more info:
Greg Poon – gpoon@ualberta.ca
Katina Woo – katina1@ualberta.ca
Registration – Coming soon!